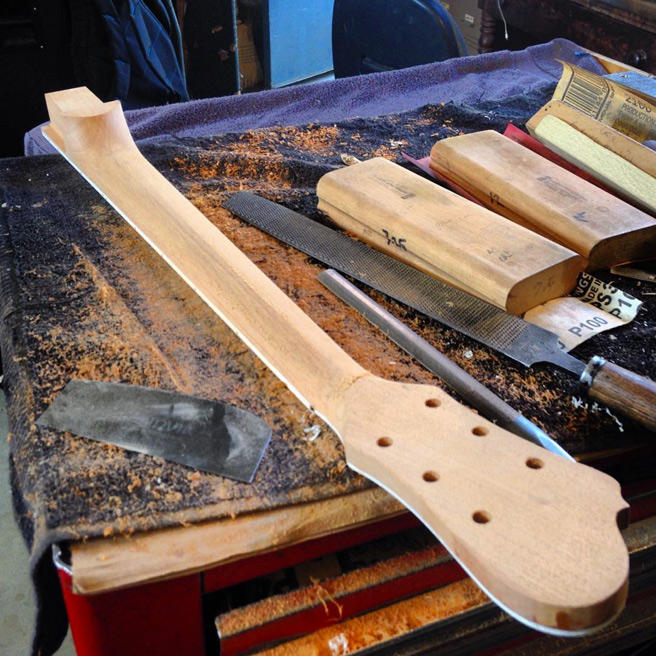 30 Years of koll Guitars
Since 1986, Saul Koll has been making unique, innovative guitars using only the finest materials with a total dedication to his craft. Koll guitars are handcrafted in our Portland, Oregon, workshop by master luthier Saul Koll and his team. The result is an embodiment of Saul's creativity designed to become an extension of yours, a guitar that sets itself apart from others the moment you pick it up.
We use only FSC-certified sustainably harvested woods, we locally source Oregon big leaf maple for our tops, and use pickups and parts made in the USA by people we know and love. Our emphasis has always been on excellence in design, fine craftsmanship, and the best customer service possible. Saul developed his now-iconic Glide body shape over 25 years ago, and has been using it as the main platform for his guitar designs ever since. The shape and features of Koll Glides are often imitated, but that only pushes Saul to keep innovating.
At Koll, we see guitar making as an ongoing conversation between builders and players, and we use that feedback to continue to improve our designs and approach. Our customers span the most demanding and challenging of guitarists including David Torn, Elliot Sharp, Bill Frisell, Lee Ranaldo (Sonic Youth), Henry Kaiser, Isaac Brock (Modest Mouse), Mary Timony (Ex Hex), Eleanor Friedberger, Peter Holmstrom (Dandy Warhols), Hershel Yatovitz (Chris Isaak), Kenny Greenberg (Kenny Chesney) and many more.
What began as an experiment in guitar construction on the kitchen table of his college apartment in 1986 turned into a career for Saul. A constant maker of things and a guitar player since age 12, Saul eventually found his place at college studying and creating sculpture, earning a Bachelors degree in Fine Art. Saul got his professional start as a luthier at the legendary World of Strings in Long Beach, California. Under the strict tutelage of violin maker Jon Peterson, he immersed himself in all aspects of instrument creation and restoration. Saul worked with TVJONES as technician and writer for the Gretsch company for several years. All the while, he has toured extensively and has made numerous records and CDs with pop/punk acts The Charms, 8 Foot Tender, and The Lovesores.
Saul's work has been featured in Guitar Player, Vintage Guitar, Acoustic Guitar, Premier Guitar, Guitar Aficionado, Fretboard Journal, and many other publications. He makes his home in Southwest Portland with his longtime partner Denise, their two daughters, two cats, and one big sloppy mutt named Louie.
Koll Guitars partner Gary Hustwit is a filmmaker and photographer based in Brooklyn, New York. His guitar obsession also started at age 12, when he apprenticed in the workshop of his uncle, Rhode Island luthier and collector Steve Senerchia. Gary has been involved in the independent music, book, and film industries since the late 1980s, when he worked for punk label SST Records in Los Angeles. He has produced 13 feature documentaries, including the Wilco documentary I Am Trying To Break Your Heart, and films about Bob Moog, Death Cab for Cutie, Animal Collective, and Mavis Staples. He is also the director of the acclaimed design documentaries Helvetica, Objectified, and Urbanized. Gary and Saul have been friends for over 30 years, since their college days in Southern California. In addition to providing design input, Gary oversees sales and marketing for Koll.
Our new logo and graphic identity were designed by the amazing Mr. Aaron Draplin. Stay tuned for more of Aaron's designs for Koll that we'll be unveiling soon.
CONTACT US
Koll Guitars are handcrafted by Saul and his team in his workshop in Portland, Oregon. All sales and marketing are handled through our east coast office in Brooklyn, New York. Please note that Koll is no longer affiliated with Premier Builders Guild. We sell guitars and merchandise directly from this site, and through a small network of fantastic dealers. For dealer inquiries, questions about custom instruments, ordering from this site, or anything else, please get in touch: